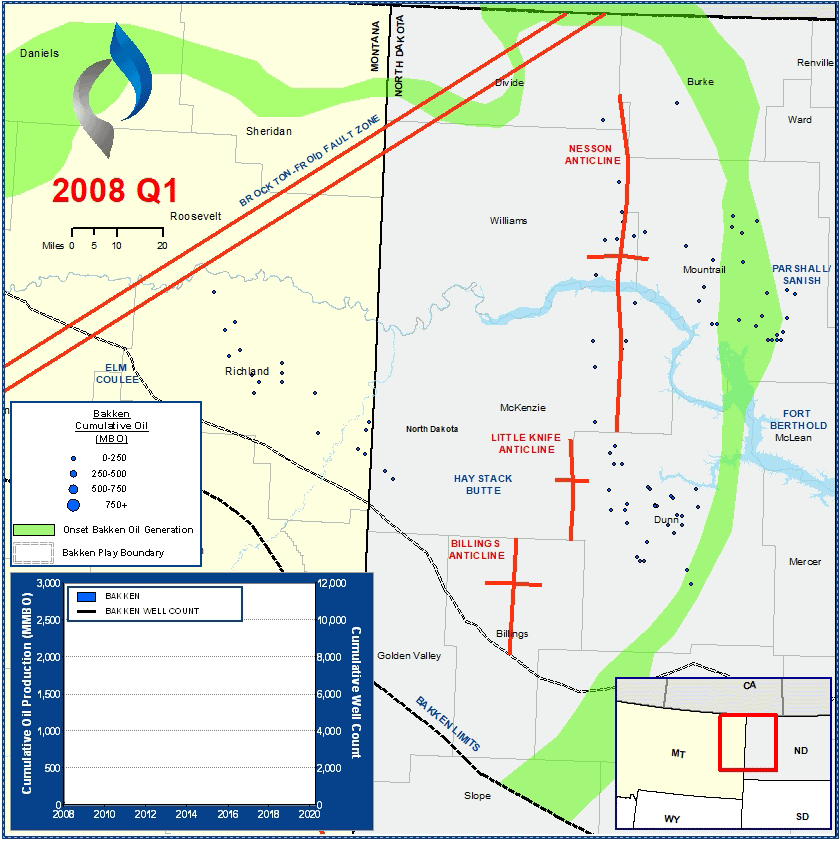 Bakken Play Map
Bakken Horizontal Production
Summary
Methodology Overview
The graphic above presents all Bakken horizontal wells completed in the Williston Basin since 2008.
Energy Information Administration (EIA) data indicates that 17% of tight oil production is currently sourced from the Bakken. This prolific oil output directly results from the world-class source rocks of the Lower and Upper Bakken shales, which have total organic carbon ("TOC") content of 10%-12% along with significant overpressure associated with maturity and oil generation.
At 75' – 140' gross thickness, the Bakken is a relatively thin formation when compared to similar plays. Despite the limited vertical nature of the play, operators commonly co-develop the Bakken and Three Forks formations in a wine-rack configuration. Frac hits and fluid communication between the two reservoirs is often observed.
Historically, development has been concentrated in northeast North Dakota, with extensional development in western Montana and Canada.
VSO sourced landing bench and production data from IHS to prepare these maps.
Reservoir & Geologic Studies
VSO has completed extensive analysis of well performance and productivity throughout the Williston Basin. Additional reservoir and geologic capabilities include:
Assessment of Development Potential and Risks
Evaluation of Well Performance and Interference
Audits/Evaluations of Producing Assets
Reservoir Quality Maps – Porosity, TOC, OOIP
Upside development Reservoir Quantity Maps – Gross and Net Isopachs